Lake Country Engineering, Inc. - Civil Engineering and Surveying in Oconomowoc, Wisconsin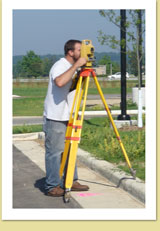 Lake Country Engineering (LCE) is a full service civil engineering and surveying firm located in Oconomowoc, Wisconsin. Lake Country Engineering is Southeast Wisconsin's trusted source for residential and commercial surveying and civil engineering. Whether you need a property survey, property lines located, a grading plan or a building staked out, our highly experienced team will provide you with affordable, accurate and timely service. The latest technology, combined with over 45 years of experience insures you will get the most accurate possible information for your project.
We also specialize in civil engineering, construction management, land development, storm and surface water management and design of systems to comply with EPA Phase II storm water containment standards. Lake Country Engineering is committed to providing the best quality services to a diverse clientele that includes individuals, businesses, realtors, financial institutions, land developers, attorneys and municipalities.
Please call us at 262-569-9331 or contact us online. We look forward to working with you to make your project a success.
Lake Country Engineering ... Integrity. Quality. Customer Service.
Our services include:
Construction staking
Easements and legal descriptions
Land development
Grading and erosion control
Storm water management (EPA Phase II)
Subdividing property
Building a fence
Real estate transactions
Property disputes
Storm water issues
See a complete list of our services >>