When you need a surveyor, you want to be confident that it's done right. Whether you're building a fence, have a lot line dispute, or want to add on, remodel or sell a home, an accurate survey is an important foundation to your project.
Developers, landowners, real estate agents, attorneys, municipalities and construction managers know the importance of an accurate and reliable surveyor to get their project done on time and on budget. They count on Lake Country Engineering to provide the service and technical know-how to get it done right.
Why is a new survey important for a real estate transaction?
An old survey is certified to the seller, not to the buyer. A new survey should be conducted and certified to the buyer. The new survey will locate existing improvements (including any new ones since the old survey), easements, and identify any encroachments over the lot lines (driveways, fences, buildings, etc). Optional items to consider adding to the survey are setting lot corner irons, marking lot lines, and identifying areas within the flood plain.
---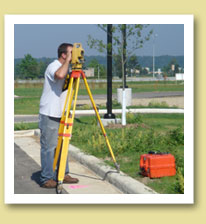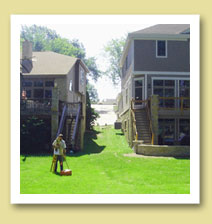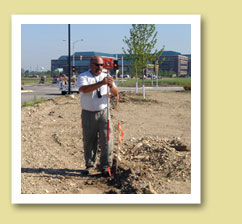 Services
Land Surveying and Construction Staking >>
---
Land Surveying and Construction Staking
ALTA / ACSM Land Title Surveys

As-built Surveys

Boundary or Property surveys

Plat of Surveys


Certified Survey Maps


Easement staking


Establish existing site elevations


FEMA Flood Elevation Certificates


Footing Certifications


Foundation Certifications


House / Building stakeouts


Land descriptions


Lot line locations and Lot corner locations


Plot Plans


Staking


Topography


Tree location

Site Development
Commercial Development


Conceptual Plans


Condominium Plats


Land Development – residential and commercial


Land Use Plans


Preliminary Plats


Subdivision Design


Subdivision Plats

Civil Engineering
Erosion Control Design/Plans


Grading Plans


Road Design


Sanitary Sewer Design


Soil Erosion Inspection


Storm Sewer Design


Stormwater Analysis


Stormwater Basin Design


Stormwater Management

Assessment


Stormwater Management Plans


Water Main Design

Municipal Services
Civil Engineering services


Municipal Boundary Maps


PASER


Rezoning Maps


Surveying services


Attend and/or present projects at private/public meetings


Construction Management


Expert testimony / Court testimony


Observation


Permitting Process –
Municipal, County, DNR, State


Project Management
Contact Lake Country Engineering today for your survey questions and/or needs.